Our Programs
Our programs are open to all people with disabilities, including seniors, in Washington and Oregon of all incomes, all ages, and all types of disabilities.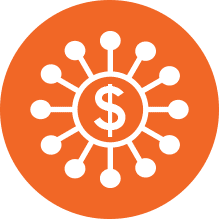 Our loans can be used to purchase assistive technology, adapted vehicles, and home modifications.
Work with our financial coach to address your most pressing financial concerns.
Assistive Technology Loans
Loans that work for you
Our loans can be used to purchase any type of assistive technology device or service, including adapted vehicles and home modifications. We look at each application on a case-by-case basis, meaning we are often able to approve those who might have been denied financing elsewhere.
Fixed 5% interest rate with no fees.
Up to $25,000 and a 5-year term available for most kinds of assistive technology.
Up to $40,000 and a 10-year term available for adapted vehicles and home modifications. A 10% down payment is required for adapted vehicle loans.
Frequently Asked Questions
Do I qualify for Northwest Access Fund's services?
Washington and Oregon residents of all ages with disabilities of all types are eligible for our services. This includes seniors with age-related hearing, vision, mobility, and/or cognitive limitations. We take a broad view of disability and are happy to answer any particular questions you might have. We also consider applications from family members, employers, and other representatives – as long as the item is purchased for – and owned by – a person with a disability.
What can Northwest Access Fund's assistive technology loans be used for?
Assistive Technology loans can be used to purchase any device that helps to improve the functioning of a person with a disability. Loans can also be used for assistive technology services such as evaluations, training, extended warranties, insurance, maintenance, and repair.
Examples of assistive technology include:
Hearing Aids
Lift chairs
Electric beds
Scooters, wheelchairs (including co-pays)
Computers/tablets/smartphones/software
Braille devices
Closed Circuit TV Magnifiers
Adaptive recreational equipment
Dentures
Smart home technology
What can Northwest Access Fund's home modification loans be used for?
Home modification loans can be used to finance home accessibility modifications and services.
Examples of home accessibility modifications include:
Ramps
Shower modifications
Stair Lifts
Grab bars and railings
Push-button door openers
Widening of doors and hallways
Counter height adjustments
Flooring
Light fixtures
What can Northwest Access Fund's adaptive vehicle loans be used for?
Adaptive vehicle loans can be used to finance:
Vehicles with existing accessibility adaptations
Chasse of a vehicle that will be adapted
Adaptations to be installed into an existing vehicle, like ramps, hand controls, and chair lifts
How much can I borrow and what are the terms?
All our loans have a 5% interest rate, with no fees. Term length varies depending on the type of loan, useful life of the technology/adaptation, and the income available to repay the loan.
Assistive technology loans: Up to $25,000, with up to a 60-month term;
Home modification and adapted vehicle loans: Up to $40,000, with up to a 120-month term. Please note that a 10% down payment is required for adapted vehicle loans.
Requests for higher amounts can be considered by the Board of Directors.
How do I apply?
To apply with our simple online application or to download the application, visit our Apply for a Loan page.
What happens after I submit my application?
Your application will be reviewed by staff for completeness. We also will obtain a credit report and may call you for additional information. Once the application is complete, it will be submitted to our Loan Review Committee, which meets twice a month. If the Committee approves your application, we will send you a Promissory Note and other loan documents. Once these closing documents are signed and returned, we will pay the vendor directly. If your application is not approved, we will tell you why and try to help you identify other resources.
What criteria will be used to decide if I get a loan?
Both eligibility and ability to repay must be shown. Eligibility is established when you show that (a) you have a disability and (b) the item you want to buy qualifies as "assistive technology." Ability to repay is evaluated on the basis of income, expenses, current debt levels, availability of other resources and your credit history. For business equipment, we also look at your employment or business plan and work history.
My credit is not great. Will that disqualify me?
Having poor credit or a history of bankruptcy will not necessarily disqualify you. Your circumstances will be evaluated on a case-by-case basis. Northwest Access Fund staff will help you identify steps you can take to improve your chances of qualifying (e.g., participating in financial coaching, or taking care of past due accounts or items in collections).
My income is very limited and I've never taken out a loan before. Can I still apply?
Absolutely. Northwest Access Fund looks at each application individually. In some cases, we may ask for a co-signer or collateral. In other cases, we may offer extended payments and/or a smaller loan.